World Book Day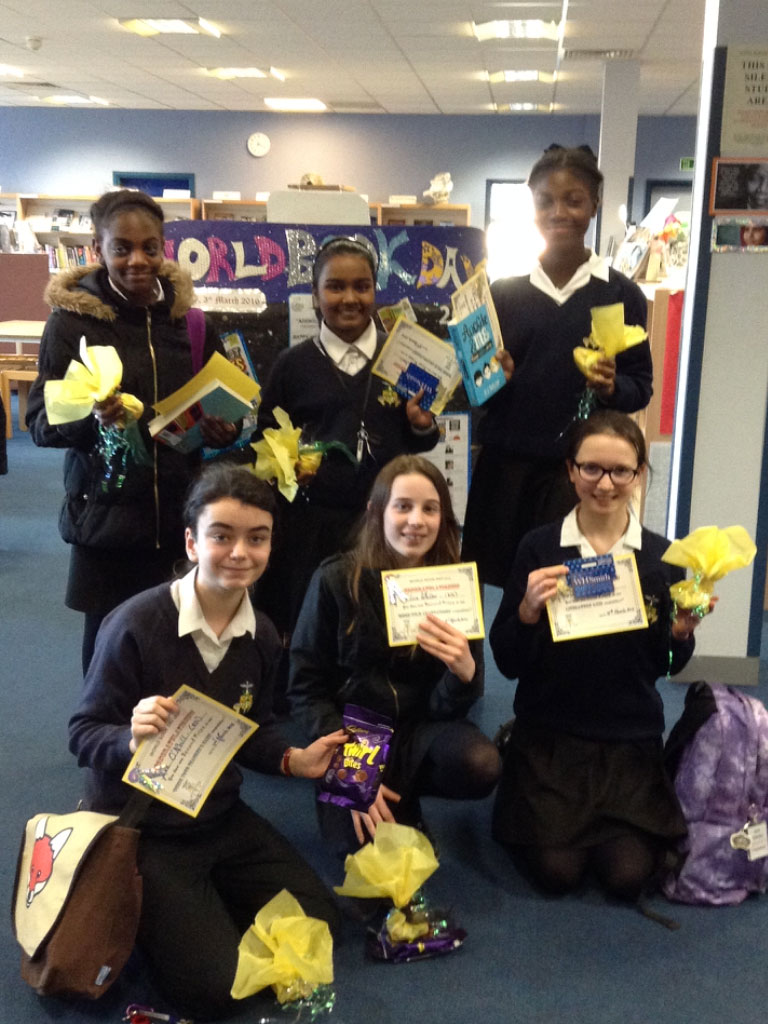 On Thursday, 3rd March World Book Day took place! A perfect day for all book lovers and story-writers to come together and celebrate books!
Ashmole took the chance to celebrate this exciting day, by holding a fun World Book Day party for students in Years 7 and 8. As an invitation was handed to me I couldn't deny the thrill of joy and excitement for I am a rather committed book fan!
After keeping it safe for the week, Thursday finally came. My friend and I who were lucky enough to receive this invitation hurried towards the Library entrance. After waiting patiently and nattering amongst ourselves the doors at last opened and one by one, we rushed in, eager faces enthused with curiosity and anticipation of what wonders were in store.
There in front of us was a table with delicious foods, the majority of which no child could resist: Biscuits, crisps and chocolate, all set out temptingly in front of us.
Miss Pasqual stepped forward wearing a beautiful veil and dress lined in fragile lace and introduced the party. Before long, things soon became clear that the teachers were dressed up as book characters! One by one they stepped forward and read a passage from their favourite book, I couldn't help but gasp when I saw Mr Collett in his dragon onesie! Now all I picture when I spy him in the corridor is an emerald green dragon and the adventures of Bilbo Baggins. After all teachers had acted their chosen character we were left to puzzle over who they were. I guessed a couple, Paddington was played by Ms Nelson, Miss Cassidy was Hermione from Harry Potter and Miss Pasqual was Miss Havisham.
We were then given interesting quizzes about different books and characters; you may have noticed signs on teachers' doors exclaiming their favourite books. The reason of which came clear when on the quizzes was the 'guess the teacher' based on the book they were holding to mask their face. Luckily I gained second place! Winning a certificate and prize for a quiz called Book Adaptations.
Chuffed and elated were all those who attended but deflated as the party came to an end. I would love to do the experience again and next year hopefully you will too!
So keep calm AND CARRY ON READING!
Alice Waller (8J1)
On 3rd March some very lucky children from KS3 got the opportunity to go to the library at lunchtime and have the full experience of World Book Day, together with teachers and peers!
Once you got there the atmosphere was positively buzzing with excitement as people queued around the library to enter. They had either got in by participating in the Lucky Book Dip or by being an overall lover of books.
Upon entering we saw a table set up piled high with foods of different colours, shapes and sizes. My friends and I sat on the chairs facing the library window along with the other students.
A sudden hush fell over as the whole English department dressed as several of their favourite book characters walked in front with books in hand. They read extracts to us from the book world they were part of. We then had to attempt what characters there were. A couple of highlights were a Hermione, a Paddington and a Lady Macbeth! It was an absolutely brilliant day and I loved every second!
Mabel van Zwanenberg Rouse (7M2)