School Library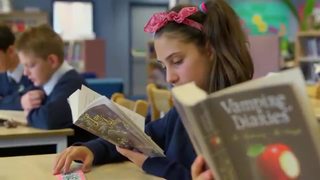 The Ashmole Academy School Library is a whole school resource which aims to support the work of all staff and students by:
Supporting the curriculum, encouraging independent learning and assisting in the development of lifelong learning skills.
Developing the reading habit, raising literacy levels and encouraging an enjoyment of books, reading and libraries.
Providing resources, guidance and accommodation for research tasks, homework, study and revision.
Supporting students' leisure interests.
All staff and students are automatically members of the Library and are able to borrow resources either for their own use or use by classes or groups.
Staff
Mrs England
Miss M Cork
Opening Hours
| | |
| --- | --- |
| Monday - Thursday: | 8:05am - 4:25pm |
| Friday: | 8:05am - 3:55pm |
The library is open before school, morning break, lunchtime and after school for the use of all year groups. Close to the examination period the library will open at lunchtime only for Year 10 and 11 quiet study.

Year 7-9 students can borrow 2 books at a time.
Year 10-11 students can borrow 3 books at a time.
Sixth form students can borrow 6 books at a time.

Books can be borrowed for three weeks at a time. Overdue lists are sent out via tutor groups.
Resources and Services
• A developing collection of 20,000 fiction, information and reference books.
• Journals, magazines and newspapers
• A wide selection of "Foreign Languages" material, e.g. Learn Chinese, Russian, Italian, Spanish etc.
• A computerised library management system* that enables both students and staff to search the library catalogue and access their library accounts. It also provides links to reading and educational websites, book lists and reviews.
• Displays of student art and design work.
Years 7 & 8 students have fortnightly library lessons in the Library. These lessons include an initial introduction to the library and
information literacy skillsThe aim is to encourage a love of literature and reading during the library lessons throughout the course of the academic year.

Year 8 and 9 students also have fortnightly reading sessions in the library.

The library is home to Year 8 Carnegie Prize Shadowing Group, after-school Chess, Educational Games Clubs and a Staff Book Club.
Library staff provide a wide range of book based activities to encourage and support an enjoyment of reading including – author visits, displays, literary celebrations, competitions and quizzes.