Religious Studies
Curriculum
Big questions are at the heart of our Religious Studies curriculum. We recognise that different worldviews perceive truth differently and encourage students to study critically the beliefs and practices within these.
Religious Studies helps to increase the understanding and awareness of these worldviews, whether typically religious or not, as well as explore the impact these different beliefs have on people's lives. It is an opportunity to debate and reflect upon deep philosophical and ethical questions. In studying these, students will demonstrate and develop the key skills of analysis and evaluation.
All students study the subject at Key Stage 3 and Key Stage 4. In the latter, Religious Studies is a popular and successful GCSE option. For those who do not choose it, Core RS is studied which helps deepen understanding of key religious beliefs and ethical issues at the heart of our society.
In year 7 students start the year with an engaging philosophical course: What is truth? This involves an introduction to worldviews such as theism and secularism, as well as the values and skills required in RS. They then explore the Abrahamic Religions of Judaism, Christianity and Islam through the questions: What is God like? Who was Jesus? How do beliefs affect actions?
In year 8 students explore further key philosophical questions: Does God exist? Why do we suffer? Is there life after death? Are we equal? When do we become an adult? Within these the views of Christians, Hindus, Sikhs, Buddhists and Atheists are particularly explored.
In year 9 students explore further ethical issues: How do we know what is right? How do we respond to wrongdoing? Is it ever right to take life? How should we treat the world and each other? Again, the responses of different worldviews to these questions are considered.
At GCSE and A Level, students study the AQA Religious Studies course. At both levels, the emphasis is on Religion, Philosophy and Ethics.
The Religious Studies Curriculum at Ashmole Academy is underpinned by five subject specific curriculum pillars: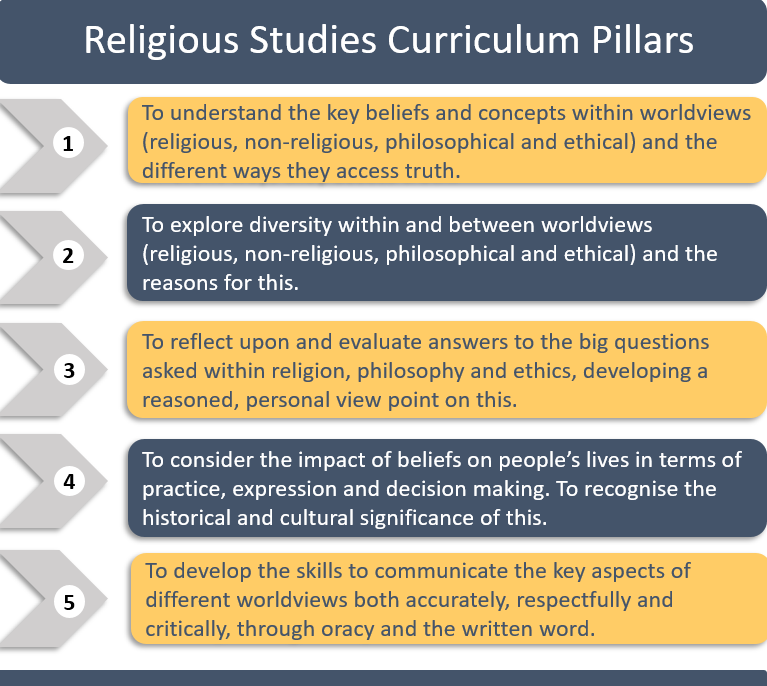 These pillars demonstrate the explicit purpose of studying the subject, including key content and skills which develop throughout each year. The pillars are referred to in every lesson, enabling students to link new learning to what they already know and can do. In the table below, you will see the titles of each unit with some of the religion and worldview emphasis in bracket.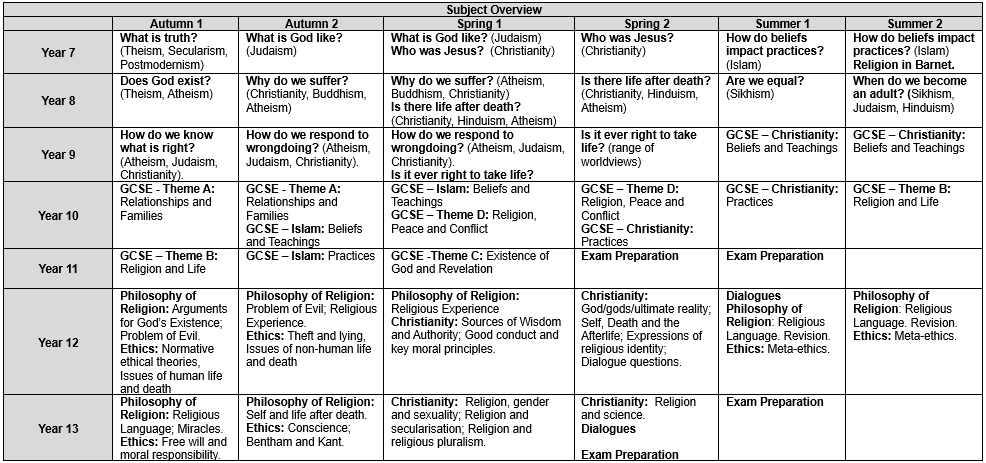 Extra-curricular
The department runs a Philosophy Club every week for students in each Key Stage where philosophical questions are debated.
The Ashmolean Scholars Programme provides an enrichment focus for year 12 and 13 students, within which extra seminars, trips, peer support and online resources are also a feature.