First XI Football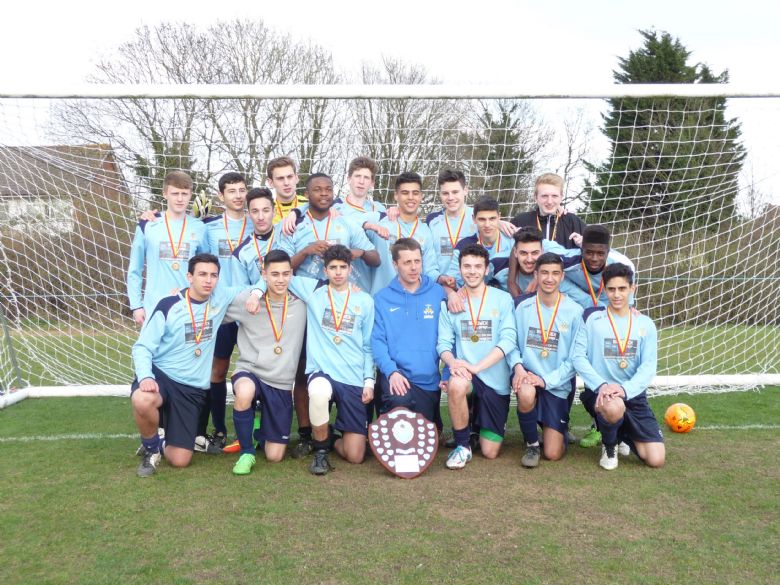 After winning the Barnet Cup last year, we were determined to win both trophies this year.
Our first game of the season was against the same team we lost to on the first day of last season, St Thomas More. We knew that it was going to be tough but we came out convincing 4-1 winners. We played our next 4 games against Mill Hill, St Ignatius and St James, who we played twice in a row. We won all of those games, scoring 9 goals and conceding just 1. We had started the season tremendously, and we were determined to continue to win all of our games.
An odd game against Woodhouse College resulted in us losing 5-4, and we were reminded that we couldn't be complacent again or it could affect our qualification places. Our next game was against Southgate College, and we made no mistake in responding well as we won 9-1. We continued to win games comfortably, noticeably beating our rivals East Barnet twice, scoring 7 and conceding 0. By winning the rest of our league fixtures, we finished top of the league, meaning we were in the semi-finals. This game was to be played against Mill Hill, who we seem to play in every semi final since Year 7!
We didn't play brilliantly, but our determination and hard work meant that we ran out 1-0 winners and we were in the Middlesex League final. The final was to be played against Drayton Manor at The Hive. In the first 10 minutes, we went 1-0 down after they scored a penalty. We started poorly, reminding us of last years final where we conceded first but came back to win. That's exactly what we did, as we scored two quick goals in the first half (goals coming from Savvas Petrou and Michael Rose), going into the 2nd half 2-1 up. We needed to concentrate, as we knew we were going to be up against it for the whole half. We defended resiliently, and we managed to score a goal in the last five minutes in the game to make it 3-1, thanks to Ryane Tully. We were officially the best school team in Middlesex!
Michael Louca