Drama

Curriculum
The Drama department at Ashmole seeks to embrace the talents of all students. By providing opportunities for students to explore the roles of actor, director, scriptwriter, designer and critic we endeavour to develop a life-long appreciation of Drama, Theatre and the Arts.
Students can choose Drama GCSE (AQA) as an option at the end of Year 9 and Drama A-Level (Edexcel) in Year 12.
The Drama Curriculum at Ashmole Academy is underpinned by four subject specific curriculum pillars:

These pillars make explicit the purpose of studying Drama, including the knowledge and skills that are developed over time.
The pillars are referred to in every lesson, enabling students to link new learning to what they already know and can do.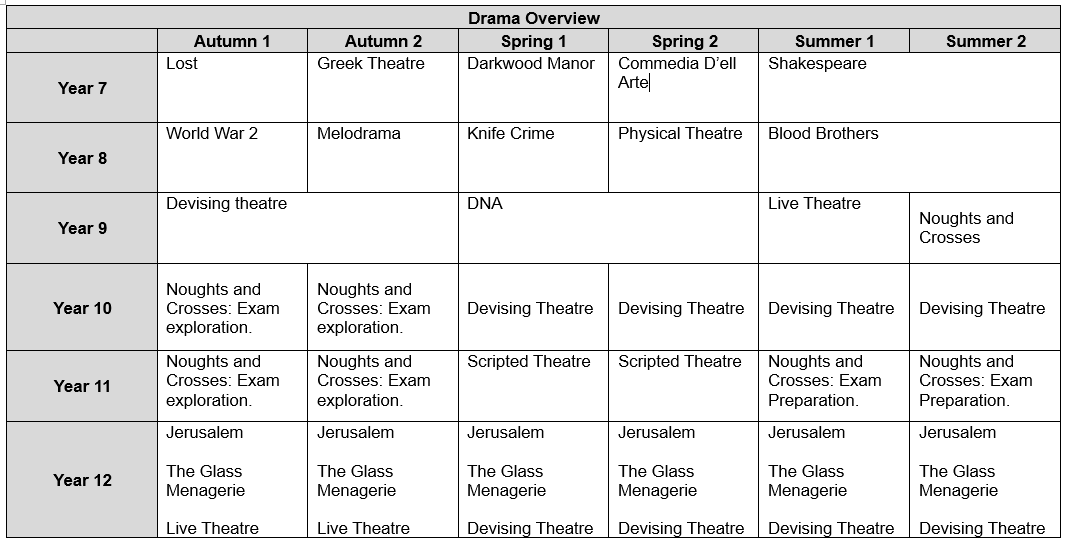 Extra-curricular
The Drama department is also responsible for the annual School Production and we encourage participation from students from all year groups, either onstage or behind the scenes. There are also a number of theatre visits throughout the year for exam groups to participate in, giving them a wider understanding of live theatre. We encourage all students to visit the theatre and experience live Drama and enjoy hearing their reviews and recommendations.