Year 7 Poetry Festival 2016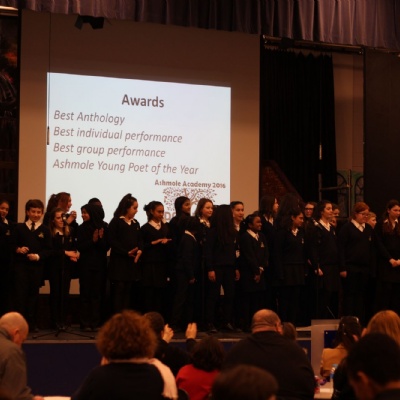 The English Department would like to say a huge thank you to the forty year 7 students who contributed to such a successful and inspiring event. We were elated with the range of topics students chose to focus on, the maturity and creativity of their writing, as well as their impressive and confident performances. We are incredibly proud of every student who took part. As part of the preparation, students attended a workshop with professional performance poet Joelle Taylor who helped them bring their performances to life and this preparation shone through on the evening. All students did exceptionally well and the judges had an extremely hard job choosing winners.
Winners
Ashmole Young Poet of the Year – Emma Imamovic, 7S2
Best Anthology – Swastikaa Kamalakannan, 7M1
Best Group Performance - Alicia Heymans and Grace Smith, 7N2
Best Individual Performances – Faith Mensah, 7S2 and Rosie Wadsworth 7S1.
Many thanks to everyone who supported this year's performance, including the Chamber Choir who opened up this year's event with two sensational performances.