UK Senior Maths Challenge Gold and Silver Winners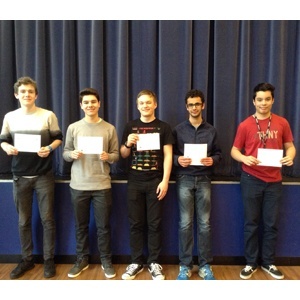 The Senior Mathematics challenge is aimed for students ages 16 - 19 to test their logical and mathematical abilities to solve given problems which are not taught in the curriculum.
Congratulations to Aled Jenkins (Year 12) and Aadil Ghoora (Year 13) who were the first students at Ashmole to receive a Gold award.
The gold award is awarded to the top 10% of students nationally, with Aled Jenkins scoring high enough to be selected for the next round, Senior Kangaroo, which he has passed successfully.
Congratulations also to Theo Yianni (Year 11), Robert Lau (Year 12), Michael Georgiou (Year 13), Matthaios Tuton (Year 13) and George Rose (Year 13), who have been successful in being awarded a Silver award, which puts them in the top 30% of students nationally.