Chemistry
Why Choose Chemistry?

'I am among those who think that Science has a great beauty. A scientist in their laboratory is not only a technician: they are also a child placed before natural phenomena which impress them like a fairy tale' – Marie Curie
Chemistry gives you an insight into the workings of the entire Universe. The very basis of life is studied through this central Science, from the atom to the Cosmos. By studying Chemistry, we can provide solutions to the world's big issues: human health, energy, and the environment. It is truly about designing and shaping the future.
Chemistry is a highly valued A Level, regardless of the degree you wish to study or the career you wish to pursue. It improves your analytical and logical skills; two key attributes in any career. It is also applicable to lots of other subjects, so gives you a great foundation for whatever you decide to do in the future. Studying Science is all about finding wonder in the very existence of yourself and the world around you; it is the pursuit of the truth.
What will you learn?
Chemistry is split into three areas: Physical, Inorganic and Organic. The first year of the course will aim to give you the fundamentals of these, starting at atomic structure and the development of the atom right up to reactions on an industrial scale. In the second year, we will focus on these areas in more depth, looking at deepening your understanding.
Some of the areas studied in both years include; Bonding, Energetics, Kinetics, Equilibria, Redox reactions, Electrochemistry, Organic Analysis, Transition Metal Chemistry, Protein Structure and DNA, Aromatic Chemistry.
In addition to the content studied, you will be assessed on 12 practicals throughout the course, with the aim to make you an exceptional practical Chemist as well as a theoretical scientist.
Why study Chemistry at Ashmole Sixth Form?
The Chemistry department is extremely experienced, and dedicated to your success. We will support you throughout the two years and every stage in your A Level. All of our teachers have degrees in different aspects of Chemistry, and some have experience working in industry. This means we are in an invaluable position to offer you advice and support in all aspects of Chemistry at school and in the wider world. We offer regular revision and teachers have regular meetings with students. Students are also given the opportunity to deliver sessions to their peers and support other students.
Students have access to the course textbook online free of charge, as well as many resources on Firefly. Additionally we have access to scientific journals through the library. We also provide a list of wider reading as part of the course and set these as tasks to widen your understanding of the topics taught, and to see these in a real world context.
The Chemistry department offers a huge level of support for students when applying to university. This can come in many forms but often involves practice interviews and review of personal statements. Those students who are hoping to study medicine or other health care related careers can make use of our fantastic MedSoc that runs regular events for students.
Which subjects go well with Chemistry?
Other science based subjects, particularly Biology and Maths. Physics, Psychology and Geography also complement the course and future career plans. We also have students that pick Chemistry alongside Humanities based subjects as this broadens your skillset.
Where it will lead you?
There is a vast array of pathways you can choose after studying Chemistry A Level. These include: Medicine, Dentistry, Pharmaceutical Science, Pharmacology, Scientific Research, Chemical Engineering, Forensic Science, Analytical Science, Nanotechnologist, Biochemist, Scientific Journalism, Environmental Scientist, Teacher, Patent Attorney, Environmental Surveyor, Food Scientist, Accountancy, Law, and many more.
For more information on subject content structure please click here for the Sixth Form Information Booklet.
For admissions criteria for each subject please click here for the Sixth Form Prospectus
Subject Ambassadors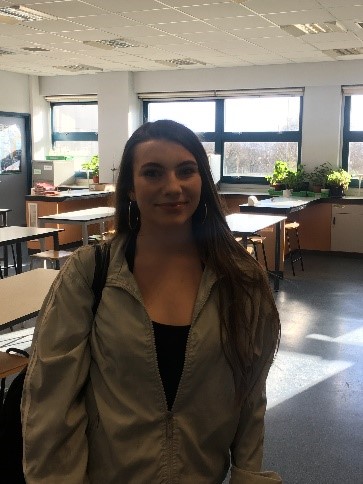 "I wanted to gain a deeper understanding of these concepts and be able to make sense of the world around us on a chemical basis."
"I chose chemistry firstly because I am very passionate about science. I had really enjoyed Chemistry at GCSE and have now learnt that this was just the surface. I wanted to gain a deeper understanding of these concepts and be able to make sense of the world around us on a chemical basis. Chemistry opens many doors, including to Medicine, Dentistry, Forensics, Pharmacology, Chemical Engineering and Biochemistry. Personally, I would like to start a degree in Medicine and Chemistry will help me access this.
I enjoy the analytical, mathematical and practical elements of the A Level. The experiments at A Level involve a lot more independent work than at GCSE, which makes them more engaging. You develop your teamwork and communication skills throughout the course.
The teachers in the Chemistry department are supportive and friendly. They are always willing to give extra help if you need a concept re-explained."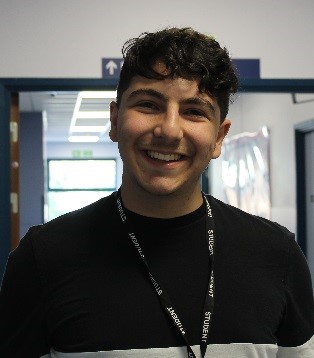 "I chose Chemistry due to my infatuation with the subject; it is hard to imagine how anything can be explained without the aid of a Chemist. I believe chemistry is really encapsulating for no other reason than that, when we think about it, everything is chemistry. A central subject that supports everything, including contemporary ideas from global warming to anti-cancer drugs. Chemistry offers you an array of options after education along with a multitude of information on the way. I find a constant source of pleasure in conceptualizing unfamiliar ideas, as well as thinking logically and analytically in arriving at a satisfying answer. I love the challenge Chemistry offers; additionally the clarity of the course is exceptional.
Chemistry has developed many skills, for example evaluation and thinking critically, which are essential for going into any field of work. The Chemistry A Level opens many avenues; I will take the abounding knowledge and skills learnt, to facilitate my university and life onwards.
As a Chemistry ambassador, I help with events such as Sixth Form Evening and Secondary Transfer Evening, especially helping younger years with Chemistry and advising them about the next step to A Level. Furthermore, I am the voice of Chemistry students helping advance and improve the department, which I thoroughly enjoy."
To hear from our former students click here