Ashmole Academy is awarded the NACE Challenge Award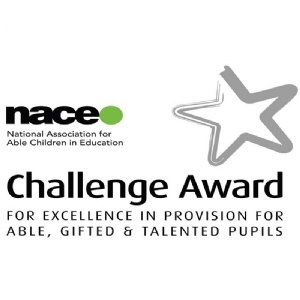 Ashmole Academy has just been awarded the NACE Challenge Award, the highest accolade given to a school by the National Association for Able Children in Education.
More details will follow shortly.
I am delighted to announce that on the 29th January Ashmole Academy was successful in achieving the NACE Challenge Award. The NACE Challenge Award is the highest accolade awarded by the National Association for Able Pupils in Education (NACE). On the 29th January NACE inspectors visited the school observing lessons, inspecting pupil work and speaking to pupils, parents, staff and governors. This followed a comprehensive audit of the school's exam results and achievements and its policies and practices. The inspectors were very impressed and an extract of their report is below:
Ashmole Academy is a caring and aspirational community, inspiring a strong sense of loyalty in all who are part of it – parents, governors, students and teachers. The pupils speak appreciatively of the fact that the teachers get to know them well, both academically and personally, and are always willing to 'go the extra mile' when they have difficulties or concerns. The supportive atmosphere, and the focus on every student doing their best, ensures that pupils of all abilities make excellent progress and achieve well. Parents and governors speak very highly of the education their children receive and of the extent of the support and encouragement given to enable them to realise ability.
Portfolio Scrutiny, Interviews and Work Samples
Attainment is good and exceeds national averages in many areas
Data is used effectively to track progress and set targets for individual pupils. In addition, the very thorough annual analysis of departmental provision and data, completed by each department, ensures that actions are quickly put into place when areas for development are identified.
The school has made excellent external links which add an extra dimension to the good range of enrichment and extension activities which the school provides – and which the students speak highly of.
There are good mentoring programmes in place to provide support (both academic and pastoral)
Teachers have high expectations of their pupils and pupils know this and respond accordingly. 'They push you to do your best'.
Lessons
Lessons are planned with clearly differentiated tasks to ensure that all are challenged without placing a 'ceiling' on what might be achieved.
Teachers make good use of questioning to challenge the students to think, and evidence was seen of students beginning to ask thoughtful questions without the need for prompting.
The classroom displays are informative and meaningful.
Excellent behaviour allows for purposeful and focused lessons
Ashmole Academy joins less than 70 secondary schools who hold the Challenge Award and we hope to collaborate more with NACE over the coming months and years. For more details about NACE and the Challenge Award please see their website: www.nace.co.uk
Mr R Hague
Assistant Headteacher