iPad Scheme
As you know Ashmole Academy is keen to ensure that all our students are at the forefront of leading edge technological changes and have the capability to maximise their learning potential. Last year, after successfully piloting iPads with some teaching staff and students, we introduced them to all staff and Year 12 students. Overwhelmingly the students have found the Apple iPads great to use – developing their curiosity and motivating them as learners, as well as being light and portable. Teaching staff were also enthused with using them within the classroom as it complemented and enhanced the use of traditional methods of teaching.
The iPad can be used by students in a variety of ways for learning; research and wider reading, filming and photography, using a variety of apps to develop and extend learning in subject areas, producing a variety of written and verbal assignments, developing presentations, reading books and news items, accessing of virtual learning environment (Firefly) as well as a host of other functions. Some aspects of the technology will benefit young people with special educational needs and disabilities.
We would like to offer parents the opportunity to attend a session at the academy where we can demonstrate the use of the iPad as an educational tool and to hear more details from the school and our provider on how the scheme will be run.
If you have any questions regarding the iPad scheme please email: ipad@ashmoleacademy.org
As an outstanding comprehensive school, Ashmole Academy strives to provide the highest possible standard of education for all our students. We are preparing our students for a world where digital technology is transforming social and work life at an ever increasing pace.
Technology has transformed almost every aspect of life from how people work in offices to how entertainment is consumed at home, yet to date this explosion of innovation has somehow bypassed education. However, technology has now reached a point where it is so easy to use that it can start to be effectively applied in mainstream education without the technical difficulties encountered in the past.
We hope to introduce a scheme which will ensure that every student has a personal iPad mini that they use both in school and at home to support their learning.
Improve the Quality of Teaching & Learning: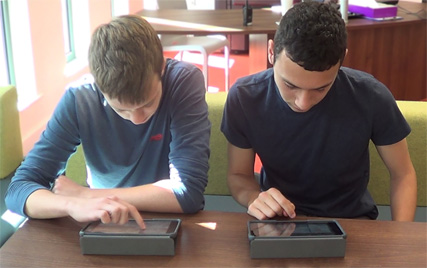 The most effective lessons are those where students receive highly personalised feedback and where the level
of challenge is high for all students, so that they are self-motivated and develop as independent learners. The content must be engaging and any processing of information must be at a deep level. Used effectively the iPad provides the teacher with a greater set of
tools at their disposal to facilitate outstanding lessons. The device in itself will not turn a poor lesson into a good one, nor does it in any way replace the professional judgement of the teacher to determine how best to support their students.
A personal device such as the iPad offers new opportunities to motivate and engage students of all abilities. It empowers the student to take control of their learning and to work in a more individualised way. Additionally the opportunity to work collaboratively with other students both within school and beyond has the potential to greatly enhance a child's understanding and educational progress.
There are many functions provided by the iPad that can support effective teaching and learning, just a few of them include:
1. A web browser - extension tasks, wider reading, film clips, research skills can all be developed in short bursts and where appropriate, rather than having to take a whole lesson in a computer room.
2. A Camera - The production of rich media resources by students will lead to more innovative and varied presentation styles in lessons. It will allow learning to be consolidated and developed in a different way. Students film/photograph work for their BTEC portfolio. Students can be filmed carrying out activities so that they can receive coaching from teachers, and others. Techniques can be filmed by the teacher to support the skill development in their students.
3. Apps - there are many subject specific Apps that can enhance the quality of provision. Obvious examples include GarageBand in music lessons and the many art creation Apps. However, there is an ever increasing supply of subject specific Apps for all areas.
4. Productivity software - Pages, Keynote and Numbers are compatible with, and share much of the functionality of Word, PowerPoint and Excel.
5. iTunes U - it is early days in this area but has the potential to provide a straightforward way to create courses and share interactive resources with students
6. iBooks - the opportunity for teachers to create interactive textbooks provides a unique opportunity to ensure that our students arrive at lessons fully prepared so that lessons can be delivered in the most challenging way possible (the flipped classroom).
If you have any questions regarding the iPad scheme please email: ipad@ashmoleacademy.org